Birmingham children's services: Row over Brigid Jones' future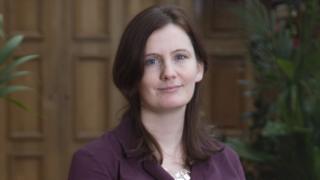 A row has broken out over the future of the councillor in charge of Birmingham's children's services.
Brigid Jones has been responsible for attempts to reform the department - which is to be taken over by an external trust- since May 2012.
A senior opposition councillor has accused her of failing in her duties and called for her to go.
But ex-health minister Lord Norman Warner said the Labour councillor was not solely to blame.
The service has been deemed "inadequate" for a number of years, and dogged by a number of high-profile child deaths.
On Tuesday, the authority brought forward the takeover announcement to pre-empt a critical Channel 4 documentary about the department.
Conservative councillor Matt Bennett, who sits on the authority's social services scrutiny committee, led calls for Ms Jones to go.
Birmingham City Council: What will happen to children's services?
Birmingham children's services: A timeline of the problems
He said a three-year improvement plan drawn up by Ms Jones "clearly hasn't worked", and cast doubts on her claim the council had intended for a trust to take charge.
Mr Bennett said she had previously spoken out "passionately against such a plan", and must have been "either lying then or being dishonest now".
Lord Warner, who was appointed by the government to oversee the service in March 2014, said a number of agencies, including police, the NHS and Department of Education were also responsible for child protection.
"Simply kicking Brigid Jones doesn't actually make for improvement," he said.
Lord Warner said the real dispute was whether the improvement plan had made a difference, which he challenged Ofsted to assess.
A statement addressed from Ms Jones, social services boss Peter Hay and executive director of children's services Alastair Gibbons, the three said there had been "huge progress" in the department.
They also accused Channel 4 of choosing to "covertly film at our weakest points" and of failing to properly engage with the authority.
In a separate statement, the council said: "We have also been honest about the historic and well publicised failings of children's services.
"Our over-riding priority, therefore, continues to be that all our children are well protected and well looked after and, to achieve this, we are committed to improving the quality of social work practice to be the best in class."