Susan Whiting murder: Steven Beards guilty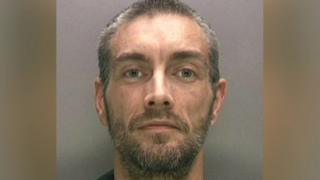 A man has been found guilty of raping and murdering his wife's friend, whose body was found hidden under his bed.
Susan Whiting, 20, was found wrapped in a shower curtain at Steven Beards' home in Bloxwich, Walsall, Leicester Crown Court heard.
He had denied the charges, claiming that he was sleeping in the woods on the night of the murder.
Jurors are still considering a verdict on his wife, Julie Beards, who is also accused of murder.
More on this and other Birmingham stories
Miss Whiting, who had learning difficulties, went missing in August after spending a night at the Beards' home.
She was found the following day having been drugged, raped and hit on the head at least three times, jurors heard.
Mr Beards, who denied rape, told the court he had "no idea" why evidence of his sperm had been found at the crime scene.
He said he intended on being a sperm donor and had a sample in the bathroom.