Birmingham City Council: What will happen to children's services?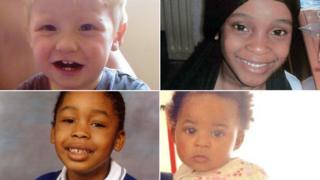 Following the news that Birmingham City Council's children's services are set to be run by a trust after years of problems, BBC News Online answers some common questions.
What do children's services do?
Monitor foster carers and adoption, social care for vulnerable children and investigating cases where concerns of child neglect or harm exist
They work with the police to determine if criminal activity has taken place, and can also decide if the child should stay at home with their parents or carers
Why is Birmingham changing?
Ofsted has rated it "inadequate"
Lord Warner, who was appointed to oversee a review into the council's services in 2014, found "significant improvements" had been made, but the Department of Education said they had "not gone far enough, fast enough"
High profile deaths of children such as Khyra Ishaq and Keanu Williams have not helped its reputation, and the council has struggled to fill vacancies for social workers.
What happens next?
The Department of Education is set to appoint a trust to run the services, but plans are at an early stage
Andrew Christie, from Westminster City Council, replaced Lord Warner in leading the review of the department, which still has a year left before it is complete
Council officials are also keen to retain some control of how the services are run, and the cabinet still has to be consulted on and approve any plans.
How have independent trusts fared?
Doncaster Children's Services Trust was the first to take over council-run services in 2014 but it was still rated as "inadequate" by Ofsted inspectors last year,
DCST said the findings showed the scale of the problems in Doncaster, and said it was reassuring inspectors had found improvements
Similar findings were made by Ofsted in Slough, which was taken over by an independent trust in October