'Racism' claim after pair taken off Birmingham plane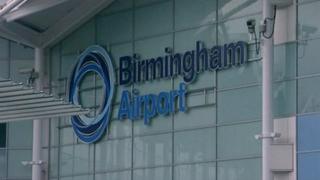 Two passengers were asked to get off a UK flight to Rome shortly before take-off over reports they were "acting suspiciously".
The men were asked to leave the plane at Birmingham and were questioned by police.
Officers did not find anything suspicious and the men travelled the next day, said West Midlands Police.
Another traveller on the Sunday flight claimed the report made about the two men appeared to be "pure racism".
Two other people got off the flight voluntarily and take-off was 90 minutes behind schedule, Monarch Airlines said.
'Wrongly accused'
Passenger Marsha De Salvatore said she saw a white "English couple" step out of the queue to show boarding cards.
The 43-year-old said she believed they reported the men appeared to be "agitated" about the prospect of flying.
Ms De Salvatore said the pilot told passengers over the cabin speakers he believed any suspicions had been "unfounded".
'Good intent'
"He said these two [passengers] he thought had been wrongly accused by a couple who had jumped out of the line and [who] didn't want to travel," she said.
She added: "I just thought, these poor people being completely wrongly accused after just wanting a holiday in Rome.
"It's annoying, because it's an act of pure racism, and I feel like with everything in the world at the moment it's going to happen more and more."
A police spokesman said it responded to a report made "with good intent" but that after speaking to the male passengers "had no concerns".