Thousands stolen from McLaren supercar in Birmingham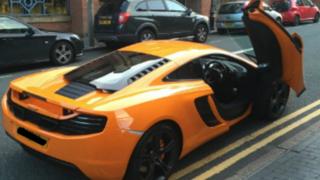 Tens of thousands of pounds were stolen from the passenger seat of a McLaren supercar, police have said.
A 52-year-old man was in the orange McLaren, parked on New Meeting Street in central Birmingham, when two robbers forced open the door.
After a struggle the men wrenched the bag of cash, which was bookies' winnings, from the passenger.
Police said a group of men taking selfies by the car moments before "may have witnessed the robbery".
They added the group "may even have pocketed some of the stolen cash" which was taken at about 15:30 BST on 22 April.
One of the suspects has been described as a light skinned black man, aged between 20 and 22 years old, about 6ft tall, with an athletic build and short black hair. He was wearing black jeans and a dark top.
The second suspect is described as a dark skinned black man, aged between 22 and 24 years old, about 5ft 7in tall and slim with dreadlocked hair. He was wearing a scruffy grey coat with a hood.
West Midlands Police, who have only just released details of the robbery, are appealing for information.
Investigating officer Det Con Laurence Green said: "We believe there were a number of people in the area at the time who have not come forward."