Susan Whiting: Murder accused Steven Beards 'kept sperm sample'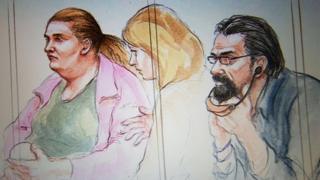 A man accused of rape and murder told a jury he kept a sample of his sperm in the bathroom but had no idea how his DNA was found inside the victim.
Steven Beards, 34, and his wife Julie Beards, 35 deny murdering Susan Whiting, a 20-year-old student from Walsall, who had learning difficulties.
Mr Beards said he had been sleeping in the woods on the night of the murder.
But his wife told the court she came out of the bathroom to find her husband standing over her friend's body.
Updates on the Susan Whiting murder trial
Miss Whiting went missing in August after going to stay the night with Mrs Beards, who also has learning difficulties.
Her body was found wrapped in a shower curtain under a bed at the couple's house in Bloxwich.
She had been drugged, raped and died of a fractured skull after being hit on the head at least three times, the jury heard earlier in the trial.
Mr Beards, who also denies rape, told Leicester Crown Court he had "no idea" why his sperm was found inside Miss Whiting's body.
He said he intended on being a sperm donor and had a sample in the bathroom.
He had no sexual interest in his wife's friend and had not drugged her food with "sedating hypnotic drug" Zoplicone, he told the jury.
He denied tying her up, having sex with her or hitting her over the head with a hammer, the court heard.
Mr Beards told the court he married his wife in 2007 and for two years they lived in a tent.
He said he suffered from depression and had tried to kill himself.
Mrs Beards told the jury her husband was abusive, had raped her twice and tried to suffocate her with a pillow.
Mr Beards denies committing any of those acts and the trial continues.