Rock-a-bye Baby taunt by pushchair-grabbing suspect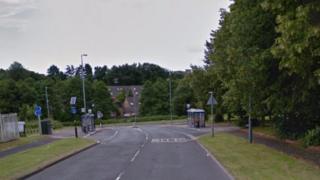 A pushchair holding a baby was grabbed by a would-be robber who ran around in circles singing the nursery rhyme, Rock-a-bye Baby.
The heavily pregnant teenage mother was thought to be held at knife-point while masked men searched her pockets.
The pushchair was knocked over during the attempted robbery in Rubery, Birmingham, but the nine-month-old infant was unhurt.
Police said the 18-year-old woman was uninjured but shaken by the ordeal.
More updates on this and other stories in Birmingham
The teenager became aware she was being followed by four men on Wednesday evening who stopped her on Arden Road and demanded money and her phone.
It is thought one man pulled out a knife while the others patted her down.
West Midlands Police said one of the attackers ran around singing with the pushchair, tipping it over during the phrase "cradle will come down, baby and all".
Det Con Laura Hurry said the men were laughing throughout:
She added: "Obviously, the mother is horrifically upset at this incident. She couldn't do anything at that time because she had a knife held up at her."
Officers are appealing for witnesses and said two of the men were thought to be black, dressed in dark clothing and had masks over their faces.