HS2 headquarters to move from London to Birmingham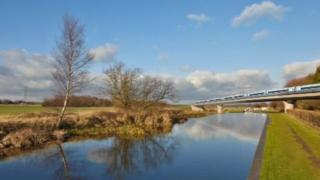 Staff at the headquarters of the HS2 high-speed rail plans are being consulted as it prepares to move to Birmingham, the BBC has learned.
Currently HS2 Ltd has been run from an office in London's Canary Wharf.
The construction operation, which will lead to 1,500 jobs, is already based in the city.
The announcement comes on the same day work starts on the National College for High Speed Rail at Birmingham's Science Park, near Aston University.
About 1,000 jobs will be based in Birmingham, HS2 Ltd said, with a small team dealing with issues in Parliament and the reconstruction of Euston station remaining in London.
The college, which will run alongside another site in Doncaster, is set to open in September next year.
More on this and other news from Birmingham and Black Country
Beth West, commercial director for HS2 Ltd, said the move to Birmingham was "critically important" to find the best people to work on the project.
"Birmingham is the heart of the HS2 network," she said.
HS2 is expected to cost £50bn, and the first Bill dealing with the line from London to the Midlands is going through Parliament.
The first phase of construction is expected to take 10 years, with further extensions to Leeds and Manchester scheduled to be complete by 2032.