Lightning strikes and flash flooding in West Midlands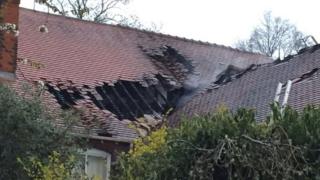 Lightning struck the roof of a house and two people were rescued from a flash flood as severe weather struck the West Midlands.
Fire crews were called to a house in Church Road, Sutton Coldfield, after it was hit by lightning during a storm on Saturday evening.
A neighbouring property was also affected by the resulting fire, which took more than three hours to put out.
Heavy rain caused flooding around Walsall, where two people were rescued.
West Midlands Fire and Rescue Service said it received a number of calls from the Aldridge and Walsall area, including one where two people in a car were trapped in flood water under a bridge in Bridgeman Street, Walsall.
The car was winched out of the water.