Connor Smith shooting: Two guilty of killing teenager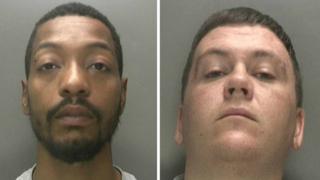 Two men have been found guilty of shooting dead a teenager in Birmingham in a row over a £50 bag of cannabis.
A jury found Leon Frye guilty of murdering Connor Smith and Philip Baillie guilty of manslaughter.
A third man, Marcus Jones, 27, of Gildas Avenue, was found not guilty of all charges at Birmingham Crown Court.
Frye and Baillie clashed with Connor and his friends in an alleyway in the Hawkesley area of the city, said West Midlands Police.
Connor, 19, was upset that a bag of cannabis, which belonged to him and a friend, had been stolen by the pair at gunpoint earlier on 8 October, 2015, police said.
More on this story and updates from Birmingham
Officers said that during the confrontation, Frye reached for a gun and shot Connor twice. The teenager, who stabbed his killer twice, was left to die at the scene.
He died from a gunshot wound to his left arm and a second to the left side of his chest, police said.
'Trivial dispute'
Frye, 28, of Rodney Close, was also found guilty of two counts of possession of a firearm and robbery.
Baillie, 28, of Forde Way Gardens, was also convicted of robbery and two counts of possession of a firearm.
They will be sentenced on Tuesday at Birmingham Crown Court.
Detective Inspector Warren Hines, from West Midlands Police, said: "It is such a waste that Connor has lost his life over such a trivial dispute between the two groups.
"This case demonstrates how incredibly dangerous it is to carry a gun on our streets, guns are designed to kill and they usually do."