Roger Gower: Memorial service held for pilot killed by poachers in Tanzania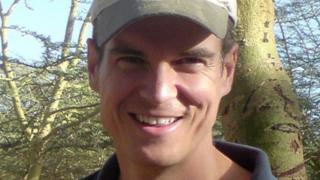 A British helicopter pilot killed by elephant poachers while monitoring a conservation area in Tanzania has been remembered at a service.
Roger Gower, 37, had been flying over Maswa Game Reserve when his helicopter came under fire in January.
Originally from Edgbaston, Birmingham, he worked in London before moving to East Africa to work as a pilot.
The service was held at St Michael's and All Angels, Chiswick, London, at 14:30 BST on Friday.
Max Gower said friends came from Africa, Brazil and the US to remember his brother.
A fund has been set up in Mr Gower's memory to promote anti-poaching measures in Tanzania, where officials believe 60% of the elephant population has been lost between 2009 and 2014.
Max Gower said more than £200,000 had been committed to the charity.
"A little goes a long way in Africa, and with this money we can look at a number of projects," he said.
Four Tanzanians accused of involvement in his death have been jailed for at least 15 years for illegally possessing weapons.