Gun banner at Birmingham Sikh event criticised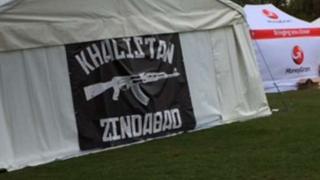 A Birmingham MP has criticised the appearance of a flag featuring a rifle and a slogan supporting a separate Sikh nation at a Sikh festival.
The Khalistan Zindabad flag was seen at Birmingham's Vaisakhi event on Sunday. Khalistan is the name of an independent state some Sikhs want to create.
The group Khalistan Zindabad Force is on the European Union's official list of banned terrorist organisations.
Perry Barr MP Khalid Mahmood said the banner "contravened basic decency".
The slogan means "long live Khalistan" and the gun is seen by some as a symbol of revolution.
More updates on this and other stories in Birmingham and the Black Country
The Labour MP said: "I think that at a family event, displaying those sorts of weapons... contravenes basic decency."
However, Davinder Singh from the Sikh Federation UK, said it had been "blown out of proportion" and the flag was just promoting the movement for the Sikh state, not violence.
Birmingham City Council said if anyone had brought this flag to its attention, one of the council officers attending the event in Handsworth Park would have asked for it to be taken down, but nobody did.
---
What is Khalistan Zindabad Force:
- It is one of the groups fighting for an independent homeland for Sikhs in India and is blamed for a number of acts of terrorism by the Indian government in the late 1980s and 1990s
- The organisation is banned in India and was added to the European Union's list of banned terrorist groups in 2005
- According to Indian media reports, the group claimed it was behind the May 2009 attack on a Gurudwara in Vienna
Source: Geeta Pandey, BBC editor, India Women and Social Affairs