Dudley carer stole thousands to meet online friend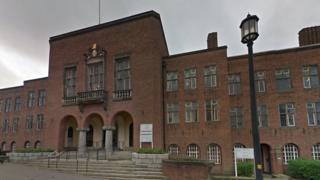 A carer has been jailed for stealing thousands from a vulnerable man to fund a trip to the United States to see someone she met online.
Sarah Grey was an assistant care co-ordinator for Dudley Council entrusted to help a 50-year-old man to manage his finances.
But she encouraged him to take out a loan and pocketed the money herself, said West Midlands Police.
Grey pleaded guilty to fraud and theft at Wolverhampton Crown Court.
More on this and other Black Country stories
The 44-year-old from from Lapwood Avenue, Kingswinford was jailed for 14 months.
The two fraud and one theft charges related to her stealing more than £7,000 between April 2014 and March 2015.
She was arrested in November 2015 after Dudley Council bosses became suspicious, said police.
She told officers she had built up debt when a relationship ended in 2010.
But detectives found Grey had spent over £3,500 to fly to the USA to see someone she had met online.