Iftikhar Azam must move trailer home from Sheldon garden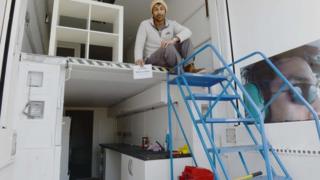 A man has been ordered to remove a 40ft (12m) lorry trailer from his mother's front garden after it attracted hundreds of complaints.
The refrigerated unit - kitted out with a bathroom, double-glazed doors and cupboards - has been parked on the drive in Birmingham since January.
Owner Iftikhar Azam, 43, said he previously lived in it but now wants to sell it.
Councillor Sue Anderson said residents were "up in arms" at the eyesore.
The authority is threatening to issue an enforcement notice after a request for the former Marks and Spencer-branded delivery wagon to be moved was not complied with.
More updates on this and other stories in Birmingham and the Black Country
The vehicle was parked at the house in Brays Road, Sheldon in January and the council said it first received a complaint in February.
Ms Anderson, Liberal Democrat councillor in Sheldon, said she had reported it to planning.
"Obviously no-one would get planning permission for something like this. Planning officers have visited the house and said it has got to be moved.
"Local people are up in arms and they want it to go."
Mr Azam, a construction manager, said he lived in the "functional" trailer for around two years in Digbeth, Birmingham, while between houses.
"It wasn't meant to be here this long as I had a buyer for it, but he lost interest," he said.
"Obviously I want to sell it because, if the council move it for me, they will put a legal charge on the property."
A spokesman for the council said: "A complaint was received in February and, following an investigation by a senior enforcement officer, we wrote to the householder requesting that the unauthorised container be removed within 28 days.
"Despite an extension to the deadline being granted at the request of the householder, the container has still not been removed.
"The council is now considering further action, which may include serving an enforcement notice."