Bishop Hooper school in Ashford Carbonnel closed after veranda collapse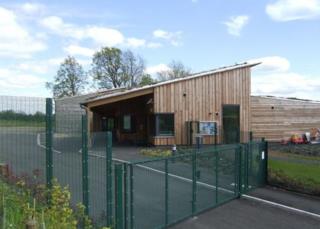 A school in south Shropshire has closed after part of the building collapsed.
Bishop Hooper Church of England Primary School, in Ashford Carbonnel near Ludlow, opened in 2011.
A veranda collapsed on Wednesday and an urgent notice on the school's website said it had closed for inspections as "the children's safety is paramount."
The Hereford Diocese, which owns the school, said no-one had been hurt and parents had all been informed about the work.
More on this story and Shropshire news
It is understood the part of the veranda that was fixed to the school building has fallen to the ground.
David Minnery, Shropshire Council's cabinet member for children and young people, described the problem "the partial detachment of a galvanised fixing on a canopy".