Connor Smith 'killed in row over £50 of cannabis'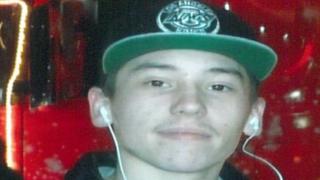 A teenager was shot dead in a row over a stolen £50 bag of cannabis, a court has heard.
Connor Smith was among four people who went to confront a dealer after one of his friends had the drug taken from him, Birmingham Crown Court was told.
The group were armed with knives and other weapons, but during the confrontation Connor was shot.
Three men deny murdering the 19-year-old on the Hawkesley estate, Birmingham, on 8 October 2015.
Connor's friend Samuel Johnson, giving evidence from behind a screen, told the court he had the bag of cannabis stolen from him at gunpoint by a dealer who accused him of selling on his turf.
He said Connor was "furious" when he found out.
Leon Frye, 28, of Rodney Close, Birmingham, denies murder and possession of a firearm with intent to endanger life.
Philip Baillie, 28, of Forde Way Gardens, Birmingham, and Marcus Jones, 28, of Gildas Avenue, Kings Norton, deny murder.
The trial continues.