Boy, 14, charged after Wolverhampton subway mugging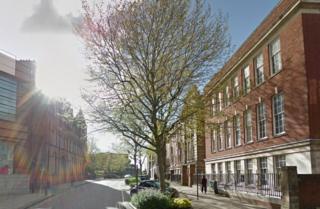 A 14-year-old boy has been charged after a disabled man was mugged following a night out in Wolverhampton.
The victim, 20, who is partially sighted and has cerebral palsy, was attacked in an underpass on Wulfruna Street.
A mobile phone and cash were stolen in the attack at about 02:30 BST on Friday, West Midlands Police said.
The boy, who is also charged with possessing a blade, was due to appear before Wolverhampton magistrates.
A 17-year-old has been arrested on suspicion of robbery.
The victim was pushed to the ground, kicked and punched but managed to get to a nearby pay phone to call 999.
He went to hospital and was discharged after being treated for his injuries.