Tettenhall Regis: 'Error' sees two Tory candidates for same seat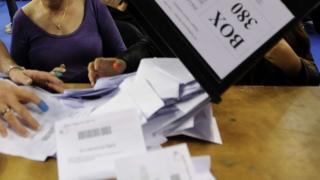 An "administrative error" has been blamed for Conservatives fielding two council candidates for the same ward.
Outgoing councillor Mark Evans and prospective candidate Udey Singh have both been named as Tory candidates for the Tettenhall Regis seat in Wolverhampton.
The party said Mr Singh was the official candidate, and Mr Evans said he would lend his support to his colleague's campaign.
Both will appear on the ballot paper.
The council said the winning candidate would be the individual who received the most votes, regardless.
To be nominated, a candidate needs 10 registered voters to sign their nomination papers and sign themselves to consent to their own nomination.
A Conservative Party spokesman said: "An administrative error has resulted in two Conservative candidates being nominated for Tettenhall Regis ward. We would urge residents to vote for Udey Singh, who is the official Conservative Party candidate. "
Mr Evans said: "I fully support Udey Singh and will be campaigning with him at the election."
A winning candidate could either carry on and take the seat, resign, or refuse the office. The last two options would result in a by-election.
Also standing in Tettenhall Regis on 5 May (in alphabetical order by surname):
Peter Hollis for the Liberal Democrats
Doug Hope for the UK Independence Party (UKIP)
Chester Morrison for Labour
---
Analysis by BBC's Black Country political reporter Rob Mayor
It's quite difficult to understand how this error could happen.
The ballot paper is ordered alphabetically so councillor Evans will appear at the top for the Conservatives, whilst Udey Singh will appear at the bottom, so it will be crucial for Tories to make clear in campaigns who their "official" candidate is.
Had the Tory vote been halved at the last two elections in the ward, the party would have lost, whilst doing the same for Mark Evans when he was elected in 2012 would have seem him beat Labour by just one ballot.
So a split vote could leave the party fairly red-faced.
---