The Drum arts centre: Closure threat after liquidation decision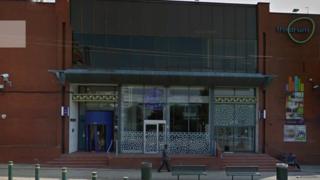 The Drum arts centre in Birmingham is set to close after the organisation that runs it said it had agreed to go into liquidation.
The site, which hosts a range of multicultural performers, exhibitors, films and events, has been based in Aston for more than 20 years.
But Newtown Cultural Project Ltd said several factors led to its decision.
When told that the venue could close, Birmingham musician Laura Mvula described the news as "terrible".
The soul singer-songwriter, who studied at the Birmingham Conservatoire, has performed at the venue.
Sharon Palmer, from the board of Newtown Cultural Project Ltd, said the centre has created a "strong legacy".
"After months of undergoing an organisational review, staff restructures, consultations with staff and external stakeholders, alongside constant negotiations with funders, we can assure the community, staff and supporters that this decision was not taken lightly."
She said The Drum had a strong legacy "we can all be proud of".
She said the board of Newtown Cultural Project Ltd met on Tuesday and the final resolution for wind-down and liquidation was passed.
Peter Knott, area director of Arts Council England, said it was committed to ensuring the local communities continue to have access to great arts and culture, and would continue to work with the city council to maintain investment in the area.
The council said it would be setting up discussions with artists and community groups to work towards finding a viable solution that "genuinely meets local needs".
Events publicised between now and June will go ahead as planned.