£50m Birmingham Dental Hospital opens to patients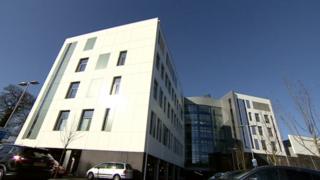 The Birmingham Dental Hospital and School of Dentistry has welcomed the first patients to its new £50m site.
The landmark Pebble Mill development is the first integrated dental hospital and learning facility built in the UK for almost 40 years, Birmingham Community Healthcare NHS Trust said.
It began treating patients on Thursday, four months after it was officially opened by the Queen.
Pebble Mill was the site of BBC Birmingham before it closed in 2004.
More on this and other Birmingham stories
Dental services have been moved from St Chads Queensway in the city centre to the four-storey building, which is expected to see up to 120,000 patients a year.
It will offer unscheduled emergency dental care, restorative dentistry, oral surgery, oral medicine, orthodontics and paediatric dentistry.
The University of Birmingham's School of Dentistry offers learning and research facilities for more than 600 students.
It is located in Edgbaston Medical Quarter, which includes the Queen Elizabeth Hospital and the Women's Hospital.
Project director, Andy Harrison, from the Trust, said: "The new [site] will provide a fitting environment from which to deliver our internationally recognised clinical services, education and research and we are delighted to be able to welcome staff, students and patients to this superb new environment for clinical treatment and education."