West Midlands Police firearms officer cleared of misconduct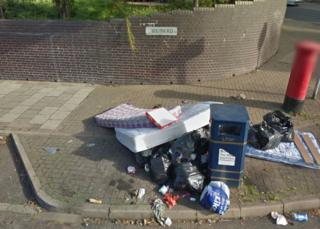 A policeman who fired a handgun while searching a house in Birmingham has been cleared of misconduct.
The officer had thought the safety catch was on but the self-modified glove he was wearing could have accidentally caused the catch to move to "fire", an investigation found.
The gun went off at a house in South Road, Hockley after a man was arrested for firearm possession on 21 February.
No-one was injured although minor damage was caused inside of the house.
'Cannot be sure'
West Midlands Police referred the incident to the Independent Police Complaints Commission (IPCC).
The PC had been to nearly 50 armed callouts in the year up to the accident "without error", the investigation found.
He stated in his initial account that he was "sure" he had applied the safety switch to his weapon.
But he added: "Thinking about it now I cannot be 100% sure that I did," said the IPCC's report.
"While the investigation found that the officer's performance was unsatisfactory, there was no evidence of a breach of the standards of professional behaviour," the IPCC said.
The officer was placed on non-operational firearm duties during the investigation and has since completed weapons drills.