Ichthyosaur skeleton at on display at Birmingham museum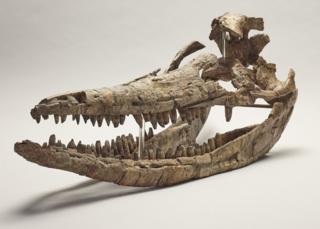 The skeleton of a dolphin-like prehistoric sea creature has gone on display for the first time.
The bones of the 3.5m Ichthyosaur were found at Fell Mill Farm in Shipston-on-Stour, Warwickshire in 1955.
A palaeontologist from The University of Manchester has pieced the skeleton back together with 3D replicas of missing bones 61 years later.
It is on show at Thinktank at Birmingham Science Museum.
Palaeontologist Dean Lomax said: "The Ichthyosaur is about. 3.5 meters long and the largest Ichthyosaurus previously discovered was estimated at 3m, so it is potentially a new species - although we won't know that until it has been further studied, which is why it is currently called Ichthyosaurus sp."
The 200-million-year-old Ichthyosaur looked similar to a dolphin and evolved from a group of land mammals that returned to the sea, he said.
---
Ichthyosaurs
Often misidentified as "swimming dinosaurs", they first appeared in the early Triassic period (251 million to 199 million years ago)
The name means fish-lizard, although the creature has been classified as a reptile since the mid-19th Century
Its length ranged from 1m to 14m - although the average length was 2m to 3m
The creature was noted for its sharp, robust teeth.
Ichthyosaurs became extinct before dinosaurs, dying out in the early part of the late Cretaceous period (145.5 million to 65.5 million years ago)
Source: Encyclopaedia of palaeontology.
---
Mr Lomax worked with palaeontologist Nigel Larkin and Luanne Meehitiya at Birmingham Museums.
They created accurate 3D replicas of the Ichthyosaur's missing bones by using CT scans of the existing fossilised remains.
Mr Lomax said: "Not only is this the largest recorded Ichthyosaurus in the UK, but possibly in the world.
"It also comes from a location previously unrecorded for ichthyosaurs, so this adds to our understanding of the geographical distribution of ichthyosaurs during the early Jurassic, a time when the UK was a series of islands."