Birmingham's Bullring Shopmobility service ends amid funding cuts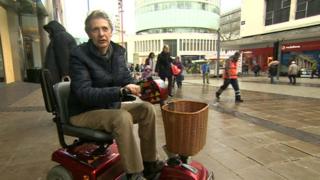 A scooter service for disabled shoppers has closed despite users saying it would leave them "severely restricted".
Shopmobility, which hires out scooters and wheelchairs at Birmingham's Bullring Shopping Centre, has shut due to funding cuts, the city council said.
Ian Cook, who has MS, said: "I won't really be able to come into Birmingham City Centre and do the same sort of things that I was able to do before."
The council said a new service would be in place by the autumn.
Mr Cook, 57, from Moseley has used the scheme for five years.
He said: "Previously I was able to go to places like New Street Station, perhaps even go to an art gallery, certainly spend a day going around the shops.
"Now my visits into Birmingham will be severely restricted."
The Access Committee for Birmingham, which runs the service, said it had helped 6,000 people in the last year.
Trustee Tony Willis said: "We spend millions on the Grand Central, the Metro, Ring and Ride and free bus passes but it's no good.
"All that does is drop you off at a platform or a pavement.
"We are the people who get people to the shops, library, museums, to their favourite restaurants to meet their friends."