'Loo with a view' from Birmingham hotel's 16th floor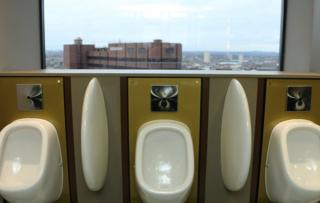 A new hotel boasts a "loo with a view" with scenes of the Birmingham skyline from the 16th floor.
Park Regis Birmingham, which opens on 29 March, allows men to go to a urinal 137ft (42m) in the air.
The hotel said unless "you were abseiling down a side of the building you wouldn't be able to see in".
Asked about window cleaners, general manager Robin Ford said: "I think we probably need to think about those don't we?"
He said the hotel had put the conveniences with "very, very good views" next to a restaurant and a bar on the 16th floor.
Mr Ford said: "You've got a bank of urinals against a wall and... next to you you've got all glass panels so you look out on the vista of Birmingham."
Women cannot look out of the window while being on the toilet as these cubicles were enclosed, he said.
But Mr Ford said women could look out while washing their hands.
After it was suggested Birmingham did not have the best view, Mr Ford replied: "I think being Birmingham born and bred I'm obviously going to disagree, but no Birmingham's a wonderful city."
---
Other convenient vistas
London skyscraper the Shard also has a "loo with a view".
A heritage "loo with a view" went on sale in Barry Island in Wales last year.
The Grade-II listed public toilets, built in 1923, have a view over the sands of Whitmore Bay.
Seven public toilets on the Isle of Wight went on sale in 2011. Some were dubbed "loos with a view" due to their impressive locations.