Birmingham Shopmobility closure 'will prevent disabled shopping'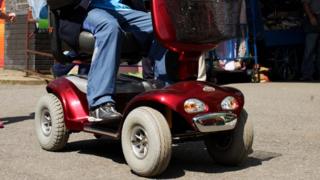 Disabled people will be prevented from coming to Birmingham when the city's Shopmobility service shuts, according to the charity which runs it.
The service, based in the Bullring shopping centre, lent out 500 scooters and wheelchairs last year.
The council said it could no longer afford the running costs of £90,000 a year and 12 jobs are at risk.
User Marilyn Armstrong said the disabled were treated as "second rate in the second city".
More updates on this and other stories in Birmingham and the Black Country
The Access Committee for Birmingham charity, which operates the service, said it had fought to keep it.
Birmingham City Council said a new service would be in place by the autumn.
'Real lifeline'
The current service is due to close on 31 March.
Ms Armstrong, from Birmingham, said she had difficulty walking and can only manage up to 10 steps at a time.
"I use it every week and it is a real lifeline - I can't go shopping now, I'm going to have to sit in the house," she said.
The charity's trustee Tony Willis said: "You just can't have the second city without Shopmobility.
"This will stop many disabled people from coming into the city centre."
Users pay an annual fee of £15 and £2 each time they hire a scooter or wheelchair. Occasional daily hire is £5.
Birmingham City Council said it hoped to restore the service as quickly as possible.
A Bullring spokeswoman said it would continue to work with the charity and others to find a resolution.