New Festival Square in £500m Birmingham Smithfield plans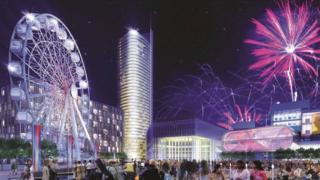 A square for festivals and cultural events will be created under £500m plans to redevelop part of Birmingham.
Festival Square - along with cafes, shops, retail markets, restaurants and homes - is part of proposals for the city centre Birmingham Smithfield area.
An eight-week public consultation will start on Monday.
Marketing Birmingham, which is funded by the public and private sectors, said the 10-year plan over 14 hectares would bring 3,000 jobs.
Birmingham Smithfield includes the site of the city's wholesale markets, which are planned to be relocated in April next year to The Hub in Witton.
The £500m plans for Birmingham Smithfield include squares, parks and gardens, while the city's retail markets will have a new home in a building.
Two thousand new homes have been proposed, with a mixture of two, three and four-bed apartments.
Exhibitions and events will be held for people to contribute ideas.