Conman Gurtake Singh jailed over 'sob story' lies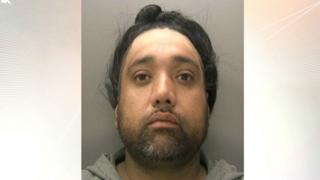 A serial trickster who conned an 82-year-old to help pay for a sham medical trip to India has been jailed for three years.
Gurtake Singh preyed on the goodwill of people with sob stories claiming he needed taxi money to visit ill relatives in hospital, police said.
Birmingham Crown Court heard how he deceived people into giving donations of £20 to £350.
The 38-year-old admitted 11 counts of fraud and one of theft.
More on this and other Birmingham stories
Singh, from Hall Green, Birmingham, took £150 from an 82-year-old woman in October and returned the next day with a fruit wreath to say thank you, West Midlands Police said.
He then persuaded her to take out another £350 to help pay for a sham medical trip to India.
In another incident he "brazenly" introduced himself to an 84-year-old woman as "Mr Con" and kissed her on both cheeks as she handed over £40 from her pension.
Other cons included driving the elderly to cash machines if they did not have enough cash on them to give him and knocking on people's doors with fake tales of needing money for sick relatives.
Det Con Estelle Albutt said: "He was very plausible and preyed on elderly, trusting residents…and he showed no remorse for the people he conned."
Singh, from Scribers Lane, was jailed on Monday for three years and one month.
He was also ordered to pay back £1,552 compensation to his victims and banned from cold-calling addresses or asking people in the street for money.