Huge turnout at Birmingham's St Patrick's Day parade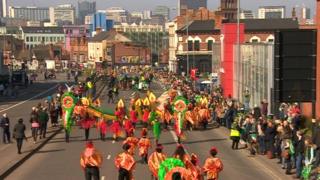 St Patrick's Day celebrations in Birmingham have gone ahead with flying colours despite no funding from the council.
Organisers said around 75,000 people came to the parade in Digbeth and maintained their event is the third biggest in the world.
It is the first time the city council has not contributed to the event due to cuts.
The new leader of the council said funding may be reinstated in future.
Parade organiser Annie Tighe said funding from the local authority has never been enough to cover costs.
"They paid £20,000 towards the infrastructure of the parade, which actually costs around £45,000.
"So we always had to find money but this year we have just had to find another £20,000."
Birmingham City Council leader John Clancy said: "We may be able to look at these things [funding] in future.
"But at a time of such massive cuts that we are having to make, we've had to make some tough choices."