Teen admits stealing bulldog pups in Wolverhampton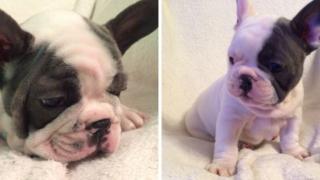 A 16-year-old boy has admitted breaking into a house and stealing puppies too young to be parted from their mother.
The seven-week-old French white bulldogs were taken from a house in Beccles Drive, Wolverhampton on 22 January.
The teenager, who cannot be named for legal reasons, admitted burglary and theft at Wolverhampton Youth Court and was ordered to pay £450.
"The puppies have not been traced to date," said West Midlands Police.
Two boys aged 16 and 17 arrested in connection with the puppies' disappearance face no further action.