Attempted murder charges after pregnant woman stabbed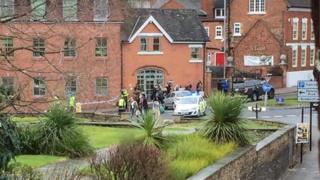 A man has been charged with two counts of attempted murder after a pregnant woman was stabbed in a West Midlands street.
Babur Karamat Raja, 41, from Sutton Coldfield is accused of attacking the 40-year-old in Sutton Coldfield on Friday.
He has also been charged with assault, attempt child destruction and possession of a knife.
Mr Raja is due to appear before Birmingham magistrates on Monday.
Police said the woman is in a stable condition in hospital and her baby girl - born following the alleged attack - continues to do well.
The victim's family praised five men who went to her aid before paramedics arrived.
In a statement released by police, they said: "We'd all like to express our heartfelt thanks to everybody who helped her on Friday afternoon.
"Your fearlessness and selfless actions saved both their lives and we are overwhelmingly grateful to you all."