West Midlands Police officer 'mistakenly' fired gun in house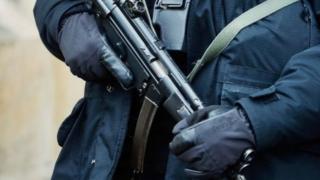 An armed West Midlands Police officer "unintentionally" fired a gun while searching a house in Birmingham.
Officers had gone to the house in South Road, Hockley, and arrested a 22-year-old man for possessing a firearm with intent to cause fear or violence.
During the subsequent search there was an unintentional discharge of a police firearm, the force said.
No-one was injured in the shooting and only minor damage caused to the inside of the house.
The force has referred the incident in the early hours of Sunday to the Independent Police Complaints Commission.
The officer has been placed on non-operational firearm duties while the investigation continues, the spokesman added.