Birmingham 'gun fanatic' jailed for shooting neighbour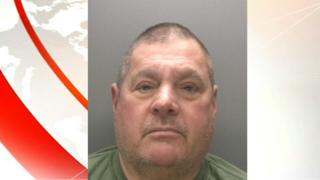 A "gun fanatic" who shot his neighbour in the shoulder after a drunken row has been jailed for 16 years.
John Kingscott, 62, tussled in a Birmingham alley with 25-year-old Ben Milligan on 14 February, 2015.
He went home to collect a Smith & Wesson revolver, then fired twice at the victim.
Police found more than 30 guns, about 10,000 rounds of ammunition, bullet-making material and explosives at Kingscott's home.
Kingscott, of Ambleside in Bartley Green, walked his dog after the incident and was arrested by officers when he returned to his house.
He pleaded guilty to grievous bodily harm and possessing illegal firearms and ammunition, but was cleared of attempted murder following a trial at Birmingham Crown Court.
The illegal firearms found at his home included a 9mm Luger pistol, a Saint-Etienne bolt-action rifle, self-loading and semi-automatic pistols and a sawn-off shotgun.
Det Insp Paul Joyce, from West Midlands Police, said Kingscott - a warden at a Birmingham gun club - was "a skilled armourer" whose loss of temper led to a highly-dangerous situation.
"He was not known to the police and, in his own head, he was not doing anything wrong in owning this stash of firearms, despite many being illegal and not covered by his gun licence," he said.