Opening delayed for final phase of Birmingham's tram route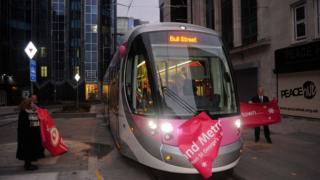 The final section of the first tram route through Birmingham for more than 60 years will not now open until the summer, several months behind schedule.
The first tram travelled from Snow Hill station to Bull Street in December.
But the final extension of the £128m project, along Corporation Street to New Street station, was due to open this month, but has now been postponed.
West Midlands transport authority Centro said the section had been "tremendously challenging".
More updates on this and other stories in Birmingham and the Black Country
Nearby retailers have been offered compensation owing to the over-running of the project, which was started four years ago.
Work on the 0.7 mile (1.2km) extension to New Street was scaled back in December to minimise disruption in the run-up to Christmas, but the trams were expected to be tested during that time.
Testing is not now due to begin until the end of April with the track being opened a "few weeks after that", Centro said.
Phil Hewitt, from Centro, told BBC News: "Realistically, the first date is towards the end of April when we'll have trams running through here and then we'll be aiming to open within a few weeks after that, as soon as we can after that.
"He said they were at the final stage of construction now but had encountered a number of technical issues they have had to resolve with contractor Balfour Beatty.
"A major headache has been dealing with what's under the ground, and finding a way of threading the track and associated infrastructure through the pipes and cables that are already there."
He apologised to retailers who had endured disruption but said they would see "immense benefit" in the long term when tram system brings in three million passengers to the city centre each year.
"Clearly we're immensely apologetic for the disruption that people suffer and we appreciate that patience," he said.
"We just ask them to bear with us for a few more weeks."
BBC Midlands Today transport correspondent Peter Plisner
It has taken more than 20 years to get the trams into Birmingham city centre so an extra six weeks or so should not really make that much difference.
The latest delay comes as plans for future Metro lines are gathering pace.
Next year should see the start of a further extension to Centenary Square and Edgbaston and another new line connecting the Metro to Wolverhampton railway station.
Still some way off are lines to the proposed HS2 station at Curzon Street and onwards to Digbeth and another route in the Black Country to Dudley and Brierley Hill.
Trams are seen as an ultra-modern form of public transport and an essential piece of kit for any aspiring international city. Some suggest that Birmingham is finally getting the transport system it deserves.