Oswestry home of Uri Geller spoon gorilla shut by overcrowding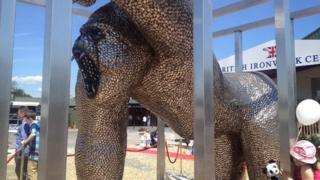 The birthplace of a giant spoon gorilla ordered by Uri Geller was forced to close when 3,000 visitors descended on the site in two hours.
The British Ironwork Centre, in Oswestry, Shropshire, said it had not expected such a huge influx of people for a family fun day.
Bosses closed the gates and police were called twice to manage traffic nearby.
The centre created the 12ft-high (3.6m) gorilla statue from 40,000 spoons for cutlery-bending entertainer Geller.
Its overwhelmed event included live music, exotic animals and falconry displays amid the array of iron sculptures.
The centre posted on Facebook about the "bitter decision" to close and said it had not anticipated the "surge of attendance".
"We only ever want to provide lovely experiences and completely recognise that on this occasion we have let so many people down," it said.
"We will make sure that we make amends to all those who had tickets and were planning to attend today."
West Mercia Police said it received calls to the centre at 11:40 GMT and 12:10 GMT to manage traffic on the A5.
"There were cars parking on the main road," a spokesman said.