Wolverhampton gang who sold fake fuel jailed for tax fraud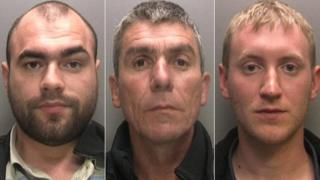 A gang sold kerosene claiming it was diesel to unsuspecting motorists for five years, a court was told.
Frank Daly, 54, Jacob O'Callaghan, 26, and Danny Williams, 22, all from Wolverhampton, ran an illegal petrol station, Stafford Crown Court heard.
They evaded more than £900,000 in tax selling kerosene for £1 per litre.
They ran a fuel pump at an industrial unit in Willenhall between 2009 and 2014, HMRC said, and had a "substantial" number of customers.
Daly was jailed for five and a half years, his son O'Callaghan received a 10-month term and Williams got a six- month sentence suspended for a year.
More on this and other Black Country stories
They had bought 1.2 million litres of kerosene, normally used as domestic heating oil, and were duping a "substantial" number of customers to think it was diesel, HMRC said.
Daly, of Tudor Road, was found guilty of fraudulent evasion of excise duty and evading payment of VAT at Stafford Crown Court on Wednesday.
O'Callaghan of Fitzmaurice Road, and Williams of Hampton Road, had pleaded guilty to fraudulent evasion of excise duty, during a hearing at Wolverhampton Crown Court in May 2015. O'Callaghan also pleaded guilty to evading payment of VAT.
The trio were originally arrested in May 2014.
Richard Wentel, of HMRC, said: "Fuel fraud lines the pockets of criminals and can have a devastating effect on legitimate fuel traders, forcing them out of business."
Motoring expert Jagit Singh Chaggar, said: "Using kerosene in a diesel car can damage the injectors and the injection pump because it is coarse, whereas diesel is a lubricant.
"Also, it could possibly damage the engine because kerosene is much more flammable."
Mr Chaggar, who runs a garage in Birmingham, added: "Damaged injectors could cost about £1,000 to repair and an injection pump could cost anything from £1,500."