Birmingham police constable denies terror 'kidnap hoax'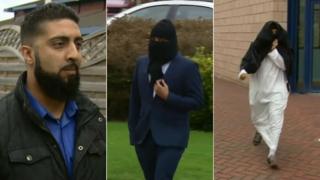 A police officer accused of involvement in a "kidnap hoax" of a fellow officer has denied plotting to pervert the course of justice.
PC Amar Tasaddiq Hussain, 29, pleaded not guilty to two counts of conspiracy at Stafford Crown Court.
Mr Hussain is charged with involvement in making a false 999 call alleging a fellow officer was to be kidnapped.
Adil Bashir and Muhammad Sheikh are charged with the same offences and also deny the charges.
Mr Hussain, from Birmingham, was suspended from duty with immediate effect.
West Midlands Police said it was given "false and malicious information" suggesting an officer was to "be kidnapped as part of a terrorist plot...by a radical Muslim male" on 8 December last year.
The hoax triggered a national security alert.
The second charge relates to a complaint made to police about a forced marriage taking place.
Mr Hussain, from Yardley, Mr Bashir, 25, from Small Heath, and Mr Sheikh, 30, from Bordesley Green, have been released on bail until their trial on 4 April this year.