Birmingham cat shot in head with bow and arrow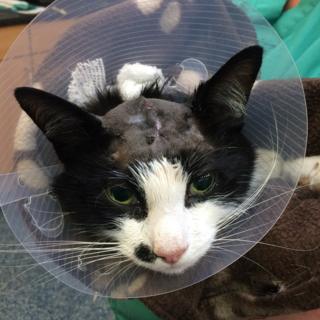 A cat narrowly avoided death after it was shot in the head with a bow and arrow.
Lionel was found near to his home in Birmingham on 4 February with the arrow lodged in his skull.
He was rushed to Lydon Veterinary Centre, where he underwent an emergency operation.
Lionel is now back at home recovering from the attack. Rory Lydon, of the vets, said it is one of the worst cases he had seen in 35 years of practice.
"When you look at the x-ray you can see the hollow part of the tube has gone just over the top of his skull," he said.
"I think if it had gone through his eye socket then Lionel would definitely be dead."
Lionel is due to return to the vet for a check-up next week.
The person behind the attack has not yet been found.