Fight to save Pershore's 'trip hazard' trees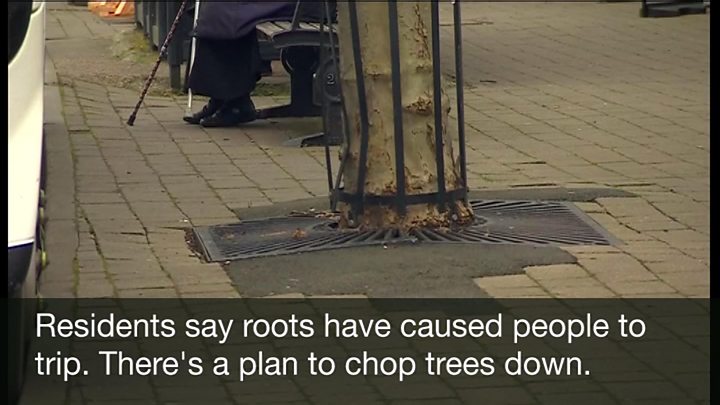 Trees planted to restore an area to its former glory could be felled after tripping up pedestrians.
All 18 trees lining Broad Street, Pershore, are earmarked for removal by Worcestershire County Council amid injury claims against its insurers.
Campaigners are alarmed by the plan which affects a conservation area.
But the "hazards" - planted in 2002 as part of a £200,000 regeneration scheme - could win a reprieve on Thursday by way of a Tree Preservation Order.
'Crucial to character'
By issuing such orders, Wychavon District Council can halt the process for six months to allow for further discussion.
Its former leader Malcolm Meikle warns that losing the trees will damage Pershore as a whole.
Complaining that the trees had been poorly looked after, he said: "The idea of having trees in Broad Street, Pershore, is crucial to the character of a Georgian market town."
The London plane trees were planted 14 years ago but their roots have been lifting paving, leaving Worcestershire County Council facing four ongoing injury claims.
They were introduced to boost the location's appearance, giving it, according to a council report, a "green, leafy feel". It was intended to recreate the street scene of 100 years ago.
Safety issue
But Broad Street resident Jean Andrews said the public was "very badly affected" by the trees and it was "not fair to live like that".
Jon Fraser of Worcestershire County Council said: "People are very fond of these trees, they add a nice dimension to the street scene so we won't take them away lightly.
"However, there is a problem with their roots lifting up the pavement which is causing a safety issue."
Under proposals, the London planes could be replaced with new crab apple trees.