Boys arrested over bulldog pups stolen in Wolverhampton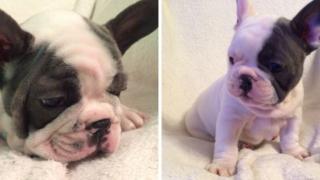 Three teenage boys have been arrested after two puppies too young to be parted from their mother were stolen.
The seven-week old French white bulldogs were taken from a house in Wolverhampton while their owners were out, said West Midlands Police.
Two 16-year-olds from Wolverhampton and a 17-year-old from Dudley arrested on suspicion of burglary have been bailed.
Det Sgt Nicki Addison said the family was distressed at the loss of two of the litter which have not been found.
The break-in happened at a house in Beccles Drive, Portobello, on Wednesday.