West Midlands Police fined £50,000 over sliced-off finger tip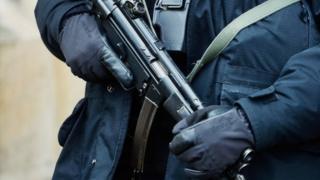 West Midlands Police have been fined £50,000 after a firearms officer had part of his trigger finger sliced off in a machine.
The force, which had admitted breaking safety laws earlier this month, was also ordered to pay £11,558 costs.
The counter-terrorism officer was hurt while disposing of a seized sub-machine gun in a hydraulic cutting machine.
Judge Richard Bond said the machine's manual had been misplaced and this was an "accident waiting to happen".
More stories from Birmingham and the Black Country.
Mr Bond told Birmingham Crown Court training and supervision for operating the cutter was "woefully inadequate".
The court heard the experienced officer lost the tip of his right-hand index finger.
'Pain, injury and distress'
"Although it was suggested this was an isolated incident, the mislaying of the manual, the lack of a risk assessment and proper management meant this was an accident waiting to happen," the judge said.
He told the court the risk of injury had been substantial as a result of the force's failings, which had persisted for the six years the machine had been in use.
Judge Bond acknowledged the force had supported the officer since the incident at a force facility in July 2014.
The policeman, who cannot be named for legal reasons, initially resigned but has since returned to specialist firearms duties.
Mr Bond said: "Whatever the fine, it cannot compensate the officer for the pain, injury and distress that has followed this terrible accident."
The force admitted a breach of Section 2(1) of the Health and Safety at Work Act 1974.
Taking account of the guilty plea, the judge reduced the fine by a third. He also recognised the force was "under enormous financial pressure" and a large fine might "result in the loss of vital services". It has since outsourced the disposal of seized weaponry.
After the hearing, Chris Rowson, the force's head of human resources, said it had brought in "stringent measures" for weapons disposal following the incident.