Twitter users back stolen pie van hunt in Birmingham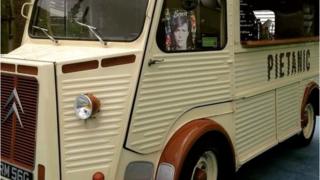 Social media users have backed a hunt to find a stolen van used as a "pop-up" gourmet pie shop.
Birmingham-based Pietanic said its 1960s Citroen H van, nicknamed "Claude", was taken over the weekend.
More than 850 people retweeted the firm's plea to find the vehicle, which was believed to have been stolen from a storage facility in Highgate.
Owner Jay Jones said he has had to cancel forthcoming events as all his equipment was inside Claude.
Updates on this story and more from Birmingham
"I've spoke to the police and it's not looking good," he said.
"They said they've gone out to where they thought it might be - the vehicle's got a tracker on it and it popped up on Sunday night towards Coventry I think.
"But the police think they [the thieves] might have found it and removed it.
"They think it might have been driven for a bit by Coventry but they've not found anything."
Digbeth Dining Club, a street food event in Birmingham, posted on Twitter to say the theft of the vehicle was "absolutely disgusting".
Another user, Mr Bones, tweeted: "That's one van you'll have difficulty hiding! Ain't exactly a transit is it, sticks out like a tree in the desert."
Pietanic thanked people for their "overwhelming support".
"But it's the worse thing that could have happened - everything was in there," Mr Jones said.
"My livelihood's completely gone.
"But hopefully if anyone sees it they'll be straight onto police."
Police appealed for anyone who might have seen the distinctive "retro catering van", which is white and cream with Pietanic written down the side, to contact the force.
The vehicle, which is used at weddings, pubs and street events, was taken from Sherlock Street, between 23:30 GMT on Saturday and 10:00 GMT on Monday.