Award-winning PC Christopher Blount admits drink-driving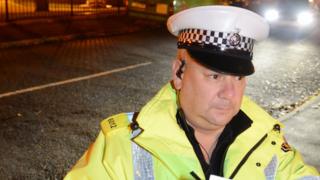 A West Midlands Police officer with commendations for bravery and long service has admitted being nearly three times the legal drink-driving limit.
PC Christopher Blount was seen by two officers inspecting "quite substantial damage" to his Vauxhall on the side of the A454 Black Country Route, near Wolverhampton, before driving off.
He was stopped and magistrates heard he was "unsteady and slurring".
The 49-year-old has been banned from driving for two years and fined £1,425.
Updates on this story and more from Birmingham and the Black Country
West Midlands Police said the officer would now face misconduct proceedings.
Wolverhampton magistrates were told Blount, from Sedgley, gave a reading of 101mg of alcohol per 100ml of breath when he was stopped by fellow officers for driving "quite erratically", last November. The legal limit is 35.
The officers recognised him as a serving policeman, who, the court heard, at one point had worked with a regional collision unit which plays an active role in the force's annual festive drink-driving campaign.
His solicitor Adrian Keeling said Blount, who has 27 years' service, was being treated for stress in his job and if he were to be dismissed by the force, would also lose his accommodation as he was staying at a police-owned building after going through a divorce.
The court was told one of his commendations for bravery was for disarming a criminal who was wielding an axe.