Passenger boards Birmingham flight without documents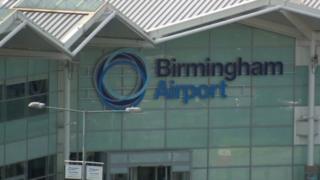 Birmingham Airport is investigating how a man managed to board a flight without "correct documentation".
Haider Ali was removed from a Monarch flight to Alicante on Sunday. He had undergone security screening, West Midlands Police said.
Ali, 28, of no fixed address, admitted two offences under the Aviation and Security Act and one count of fraud.
At Birmingham Magistrates' Court on Monday, he was sentenced to one day's detention in court.
More on this story and others Birmingham and Black Country
An airport spokesperson confirmed a man was detained by police at the airport on Sunday.
The spokesperson said: "The individual went through the relevant security X-ray screening process but did not hold the relevant documentation.
"A full investigation is taking place. Birmingham Airport takes the safety and security of its passengers extremely seriously."
Passenger Lynne Boyle, 49, from Birmingham, who was booked on same the flight, said people were taken off the plane prior to departure.
They eventually left for Alicante about three hours later on a different plane.
She said: "It was scary to think that he had been on the plane. Who knows what he could have been?"
"Twenty minutes before the flight departure I saw a stewardess walking down the plane with a chap and taking him off the plane.
"The captain announced we were all being taken off the plane... (The airport) didn't know if he'd put anything on the plane and it was being searched."
She added: "When we went back (on), we had to show our boarding passes, passports and then people had to identify their luggage, which was on the tarmac next to the plane."