West Midlands Police guilty after firearms officer slices trigger finger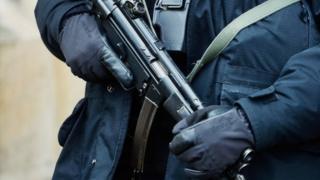 A police force has admitted breaking safety laws after a firearms officer had part of his trigger finger sliced off.
The experienced counter-terrorism officer was injured by a machine used to cut up seized weaponry at a force facility in July 2014, the Health and Safety Executive (HSE) said.
West Midlands Police pleaded guilty at Birmingham Crown Court.
Judge Richard Bond adjourned the case for sentencing on 26 January.
The force admitted a breach of Section 2(1) of the Health and Safety at Work Act 1974 and is expected to be fined.
Assistant Chief Constable Marcus Beale said: "Following the officer's injury in July 2014, the force put in place stringent measures to increase the safety of our staff when disposing of firearms.
"Providing a safe working environment and safe working practices is always a priority for West Midlands Police."
'Probing questions'
He added that the unnamed officer was still employed with the force and had returned to full duty.
"Throughout the period, we have supported the officer and are delighted that he has recently been able to resume his specialist firearms responsibilities.
"At the earliest opportunity we have implemented necessary steps to prevent this type of incident from happening again," he said.
West Midlands Police and Crime Commissioner David Jamieson said he had asked "probing questions", adding that it was "unfortunate" that public money would be spent on a fine instead of frontline policing.
"The force has changed the way that it disposes of firearms and the officer has returned to full duty," he said.
"Nevertheless this is a disappointing case that I want to make sure that all the lessons are learnt across the organisation."