Bomb scares at four West Midlands schools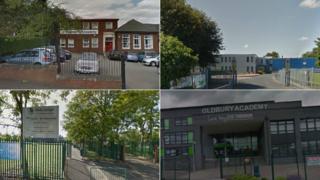 Thousands of pupils were evacuated as four schools in the West Midlands received bomb scare calls.
Students at Holly Lodge, Oldbury Academy and Bristnall Hall in Sandwell were evacuated and lessons at Leasowes High School in Halesowen were halted.
The schools received the threats between 09:00 GMT and 09:30, West Midlands Police said.
The force said no suspicious objects were found and an inquiry is under way to find out who made the calls.
Follow live updates on this story as they happen
It said at lunchtime that the four schools had been given the all clear and all students are safe.
All schools are set to be open as usual tomorrow.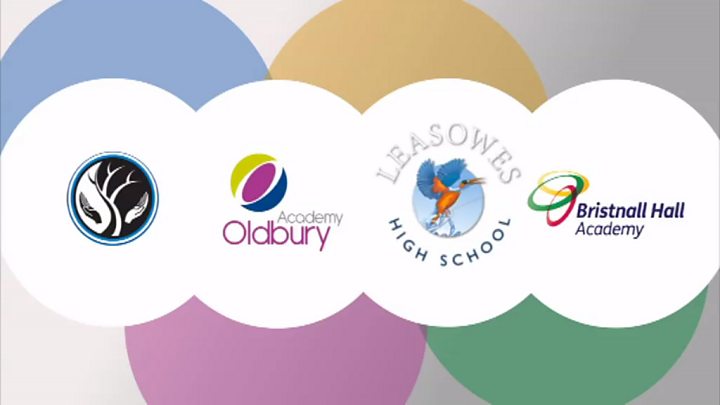 Sandwell Council leader Darren Cooper said schools had "done the right thing" in evacuating pupils.
He said: "We evacuated the schools on the basis of safety..... we erred on the side of caution."
Parent Alan Brockhouse said he was "beyond angry" at Leasowes school's handling of the incident.
He said: "They put them in the halls together. If they were going to be attacked they're all in one place. It's chaos. I dread to think what could have happened and how many could have died.
"They said they checked it out and it was safe, but you're telling me they're checking everywhere all over and know it's ok?"
Leasowes High School head teacher Neil Shaw said: "We acted quickly to inform police immediately and evacuated the school within a few minutes.
"Lessons have now returned to normal, but some children have gone home with parents.
"The safety and welfare of our children is obviously our top priority and I'm grateful to staff and emergency services for the way they dealt with this difficult situation."
Two Oldbury Academy students told BBC WM that pupils and teachers were "panicking" as the school was evacuated.
A 15-year-old said: "A few people were running down the street, running away from the school."
Francesca Spratt, a sixth form student at Bristnall Hall Academy, said a senior member of staff entered her biology class and asked students to collect their things and leave as quickly as possible.
She said: "Nobody was told why we were being evacuated but all of the students left the school very calmly, there was no running or mass panic."
Jack Beckett, a student at Bristnall Hall Academy, said: "My teacher was pretty scared, she was shaking a bit and told us to please leave.
"We thought it was a gas leak, but then we found out other schools had to be evacuated as well."
Head teachers at the three Sandwell schools affected said they will remain closed for the rest of the day but will be open as usual tomorrow.
The borough council and parents should check the schools' websites for any updates.
Bristnall Hall Academy principal Vince Green said: "Police took the threat very seriously, that is the most important point. They recommended we evacuate the academy, which is exactly what I have done."
The affected schools
Bristnall Hall Academy, 11-18, 956 students
Holly Lodge Foundation High School College of Science, 11-18, 1,242 students
Oldbury Academy, 11-18, 1,600 students
Leasowes High School, 11-16, 1,017 students
Councillor Ian Cooper, cabinet member for children's services at Dudley Metropolitan Borough Council, confirmed the Leasowes High School alert "turned out to be a bomb hoax".
He said: "We can reassure parents that the situation was dealt with quickly and safely."
Avon and Somerset Police said four bomb hoaxes at schools in the Bristol area were not believed to be linked to the West Midlands alerts.
A West Midlands Police spokesman said: "Investigations are at the early stages.
"If any connections with other offences locally or further afield come to light, they will be examined."
Earlier the force said a police investigation was under way to find the person responsible for the calls.