Birmingham women jailed after faking job for gun accused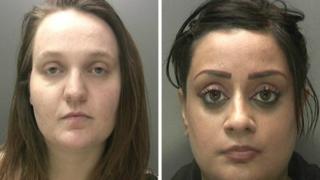 Two women who plotted to fake a job offer for a man awaiting a gun dealing trial have been jailed.
Stacey Candelent wrote a letter in a failed attempt to get bail for her friend Seleena Hussain's husband, West Midlands Police said.
Usman Hussain was a member of a Birmingham gun dealing ring accused of selling antique firearms.
Candelent was jailed for nine months and Seleena Hussain for 18 months for perverting the course of justice.
More on this story and updates from Birmingham & Black Country
West Midlands Police said Job agency clerk Candelent received a call from her friend Hussain, 30, of Brays Road, Sheldon asking her to fake a job offer.
The 25-year-old, of Russells Hall Road, Dudley, wrote a letter from a courier company in Coleshill.
Police said they checked the offer out with the firm, which confirmed it was not genuine.
The letter was traced back to Candelent, who officers said was in a relationship with Usman Hussain's brother at the time.
Det Ch Insp Simon Wallis said: "Both these girls interfered with a very serious trial concerning the unlawful supply of guns to be used in armed crime conflict.
"The matter had nothing to do with them. They contrived between them to present to court a false job offer for one of the men awaiting trial in the hope it would have got him out of jail until his trial."