Terror suspect held for India bombing 'should be returned to UK'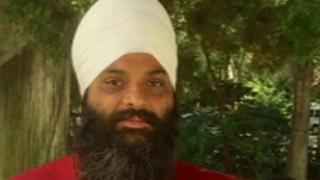 A terror suspect from the West Midlands arrested and detained while on holiday in Portugal should be returned to the UK as soon as possible, an MP says.
Paramjeet Saini is fighting extradition to India over his alleged involvement in the murder of a Sikh politician in 2009 and bomb attacks in India in 2010.
He and his family were granted refugee status to stay in the UK until 2023.
Mr Saini's MP John Spellar questioned his arrest last month, saying he was protected by European Convention.
Updates on this story and more from the Black Country
The Labour MP for Warley said he was urging the Foreign Office to intervene over Mr Saini's case.
He said: "This is a concern, not just for the Sikh community but anyone with refugee status in the UK or wider in Europe, because it seems to imply it doesn't actually work as soon as you leave the borders of the country that's given you status and that's not good enough."
He said the Indian government should not be trying to "grab" someone while they were on holiday.
Father-of-four Mr Saini, who came to the UK about 13 years ago, is being held in a Portuguese jail.
Indian authorities have claimed he is a leading member of Babbar Khalsa International, a Sikh separatist group which is banned in the UK under anti-terror laws.
They also allege he was involved in the fatal shooting of politician Rulda Singh.
Mr Saini was arrested in 2010 by West Midlands Police, as part of a joint investigation with Indian police, and later released without charge.
He was granted refugee status because he claimed his life would be in danger if he returned to India, Mr Spellar said.
Mr Saini's family claim his detention is politically motivated and a breach of his human rights.
His wife Pinky Kaur said it has been very distressing for their family.
A court hearing in Portugal has been delayed until the end of the month.
The Foreign Office told BBC News it did not comment on cases involving non-UK nationals.