JN Miller road in Wolverhampton shut for another year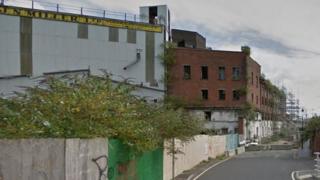 A Wolverhampton road is to be shut for another year after an underground link to an old steam mill was found.
Corn Hill was shut in 2008 after a fire at JN Miller Steam Mill. It was later decided the mill should be demolished.
Engineers then found a void under the road, thought to have been an old link between the mill and a sack store on the opposite side.
The road is due to become the main route for vehicles travelling to the city's new interchange hub.
Updates on this story and more from the Black Country
Wolverhampton rail station is due to be revamped in the £120m project.
The number of car parking spaces will double to 900, a hotel will be built and the metro line will be extended to include a stop at the station.
A spokesman said a project of that size was always going to be complex.
"The demolition of such an old building like the former steam mill was always likely to present historical complexities," he said.
The JN Miller building was listed by English Heritage in 1991 but gutted by the fire in 2008.