Puppy attacked by gang of teenagers in Birmingham park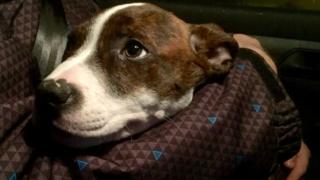 A puppy has been left badly injured after being beaten by a gang of teenagers in a brutal attack.
The five-month-old Staffordshire bull terrier was kicked and seen being dragged on a lead at Witton Lakes, Perry Common Road in Birmingham on Wednesday, the RSPCA said.
The group of male youths were thought to be aged around 14 to 17.
Nicknamed Noel, the puppy suffered five fractured ribs and has a suspected fractured front left leg.
There were between five to seven in the group when the attack happened at about 18:00 GMT. The dog was rescued by a passer-by who heard it yelping.
RSPCA inspector Laura Bryant, who is investigating the attack, said: "The poor dog was absolutely terrified which is not surprising considering what he went through.
"His front left leg is very swollen and he could not stand when he was rescued last night.... It is not acceptable to treat an animal in this way."
The charity, who is now caring for Noel, has appealed for information.