Stabbed Jamar Walker's family ask people not to judge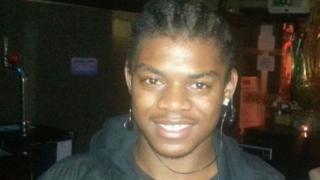 The family of a 15-year-old boy who died after being stabbed in a street "fracas" have asked people not to judge why he was out late at night.
Jamar Walker was found stabbed in his upper leg at about 02:20 GMT on Sunday in Smethwick, West Midlands, and died later in hospital.
He had recently moved from Lewisham, London, to Handsworth in Birmingham.
His family said he was a "typical teenage boy, mischievous and full of fun but very loving".
In a statement, they said his loss had devastated them all.
More on this story and others Birmingham and Black Country
"We would ask people not to judge why Jamar was out late at night. No-one deserves to have their life taken from them, especially at such an early age."
Jamar was found in Raglan Road in Smethwick, a 17-year-old boy was also treated for a stab wound to his back.